OmniPlayer VIP Lifetime - Mac
Special Price
€10.96
Regular Price
€29.20
Buy CleanMyMac X now! 
OmniPlayer is a comprehensive media player for almost any video and audio format on macOS. It has powerful features with modern and clean design.
You will receive your code to redeem in your account within minutes by eMail. In order not to miss out the mail, please check the spam or junk mail folder too!
Delivery Time: 1~24 hours
How to download OmniPlayer VIP Lifetime - Mac : Download Link
OmniPlayer is a comprehensive media player suitable for almost any video and audio format on macOS. It has powerful functions with modern and concise design. You can use it to easily play various 4K/1080P/720P high-definition videos and normal/lossless audio with hardware decoding. You can also conveniently control and adjust the playback/playlist/video image/audio track/subtitles/screenshots, etc. with rich functions. With different functions, OmniPlayer will add more fun to your leisure time. By adjusting subtitles, video images, and other functions that OmniPlayer can provide, you can enjoy your video time to the maximum.
Features:
Audio Control. Change audio delay time to make audio and video synchronization. Choose different audio tracks in the video. Choose audio mode such as Stereo, Dolby Surround, Headphones, etc. Customize audio equalizer or choosing predefined equalizer like Classic, Rock, Pop, etc.
Wireless display. DLNA protocol Chromecast protocol Roku channel
Screenshot. Take a screenshot with different formats. Generating gif image up to 60s. One-click exporting movie thumbnail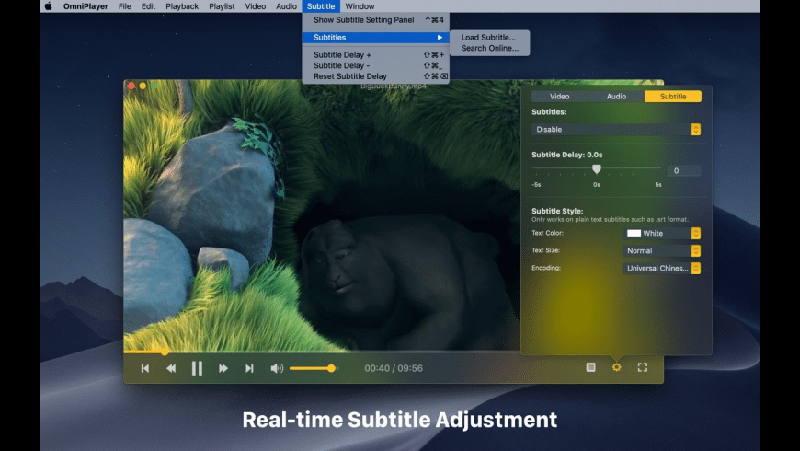 Video Image Adjustment. Adjust window size and video image aspect ratio quickly. Adjust video image rotation in all directions. Adjust video image equalizer including brightness, contrast, and saturation.
Support Multiple Media Types. Play almost any format of the local and remote server(samba/FTP protocol) videos and audios. Support online videos and audios with Http/https protocol. Play Youtube and Vimeo videos with webpage URL directly without online ads.
Subtitle Control. Load different formats of local subtitles in real-time. Search and load subtitles online with video name or hash, support most languages. Change subtitle color, size in real-time. Change the encoding of subtitles in different languages to fix the garbled problem.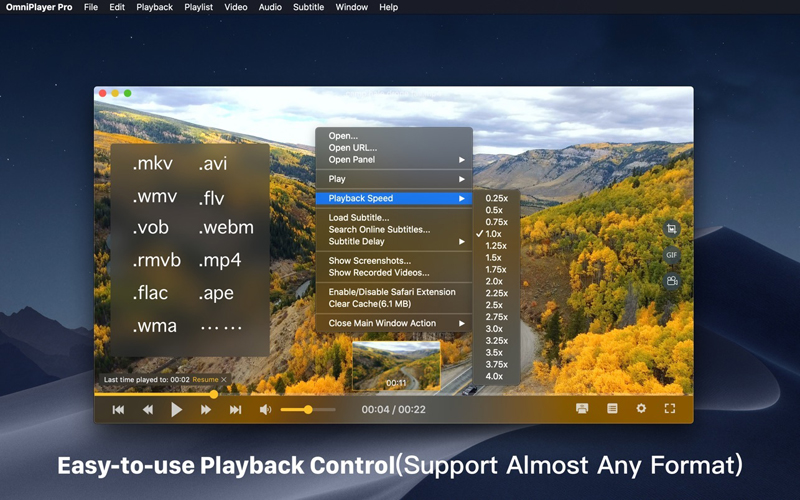 Playlist Control. Automatically record media files to the playlist, and support to clear all when exiting the player automatically. Play/Search/Delete/Change the repeat mode of the media items in the playlist.
Play Control. Pause/Resume/Fast forward/Rewind/Jump to the specified progress time. Record last progress time of the last playback when it stops automatically. The preview image is displayed on the progress bar when the local video is played. Automatically hide the controls to show a pure video view without any occlusion. Adjust the playback speed from 0.25x-4x.
OmniPlayer incorporates a comprehensive suite of features for seamless radio broadcast teamwork. Work with video and audio files playable on your Mac. Open and process the items in a great variety of formats and access optionally broadcasting options to share or receive online streams. Manage adjustment features to optimize the quality and playback of content.